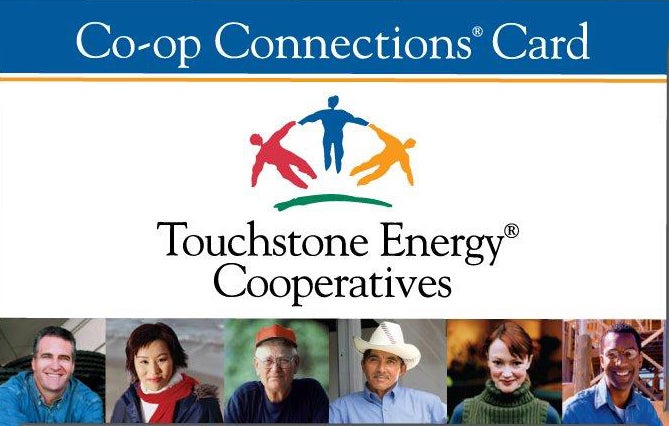 Jackson Electric Cooperative presents the new Touchstone Energy Co-op Connections Card. This program includes a discount card made available to members of the Co-op. However, this card is much bigger than just a Jackson Electric Cooperative membership discount card. Nationwide, more than 550 electric cooperatives are providing their members with similar cards. These Touchstone Energy discount cards make discounts available to any holder of a card in all of the 550 electric cooperative areas.
Touchstone Energy also provides additional national discounts that will also honor the cards via the website Connections.coop.
We hope that the new Co-op Connections Card provides another benefit for your membership in the cooperative.
Jackson Electric Cooperative appreciates the support of our area merchants in making this program work, for them and the members.
Company Name
Address
City
Zip 
Phone 
Discount
Exclusions
Contact 
A Cut Above
5001 John Stockbauer
Victoria
77904
(361) 576-1097
$3 off haircut service/ 15% off perm, color and highlight services
Discounts to be honored by Kimerly Vega only
Kim Vega
AAA Air Conditioning. Inc.
1835 Coletoville Rd.
Victoria
77905
(361) 578-3846
Blower Door Test for $295 (regularly $350)/ 10% off whole house dehumidifier with credit approval
Not valid with other offers.
John Sexton
ABC Portable Buildings & RV Park of Victoria
13202 N. Navarro
Victoria
77904
(361) 580-2424
$.05 off a gallon of propane bottle fills
 
LJ Hoct
ACE Fence Co
2805 Leary Lane
Victoria
77901
(361) 573-1373
10% off fence bid
 
Jeremy Stout
Acres of Animals Boarding Kennel
8082 FM 236
Victoria
77905
(361) 573-4002
$1 off per night of boarding with 2 night minimum
Thanksgiving weekend and the week starting 5 days before Christmas
Sandra Cochran
America Electric Services
406 Main St.
Palacios
77465
(361) 972-2713
5% off for service calls and service installations10% off purchases of $399 or more
 
Homero Zepeda
American Appliance
1917 W. Austin St.
Port Lavaca
77979
(361) 552-2317
Not valid with other offers or discounts
Alan Moon
Antique Bed Mattress.com
7879 Post Oak Point Rd.
New Ulm
78950
(713) 858-6238
10% off customized mattresses
 
Linda Behreno
Arts, Etc.
7800 N. Navarro-#265Victoria Mall
Victoria
77904
(361) 578-1332
40% off custom framing
 
Jack Burrows
Ashwood Palms Retreat
2620 FM 1728/P.O. Box 638,Van Vheck
Ashwood
77482
(979) 245-5665
10% off.
 
Willie Rollins
Atzenhoffer Chevrolet
3211 N. Navarro
Victoria
77901
(800) 234-6004
All members receive true supplier pricing on most 2009 model Chevrolets in stock.
Some models may be excluded based on availability. Call 800-234-6004 for details.
Fred Hornberger
Bay Area Service Company
1611 Bayview
Palacios
77465
(361) 972-5325
10% off up to $5000
No discount on purchase over $5000
William Law
Best Western Victoria Inn & Suites
8106 NE Zac Lentz Pkwy.
Victoria
77904
(361) 485-2300
1 king bed or 2 queen beds in a room Monday-Sunday are 10% off rack prices with co-op card presented at check-in.
Rates are not to be combined with any other offer, coupons,AAA, AARP, etc.
Sylvia Morrison
Bosart's Victoria Cycle Shop
2809 Mallette Dr.
Victoria
77904
(361) 578-2619
Up to 10% on parts, accessories and labor
Must first purchase new ATV or Ranger
David Bosart
Brady's Flowers and Tuxedos
2801 7th St.
Bay City
77414
(979) 245-5581
10% off
Wire orders and weddings
Charles Townsend
Brasher Motor Co. of Weimar
1700 I-10 East/PO Box 975
Weimar
78962
(979) 725-8515
5% discount on all parts and service
 
Scott Brasher
Brazos Landscape Supply
2830 S. Velasco
Angleton
77515
(979) 848-0243
2% off retail price.
 
Jim Naylor
Brown's Air Conditioning
501 Rosebud
Victoria
77901
(361) 573-1983
10% discount off service & parts/ $100 discount off new equipment
 
James Brown
C & D Cox Printing & Graphic Design
1717 5th Street
Bay City
77414
(979) 245-5941
5% discount on all orders $500 or more
No discounts on business cards or advertising specialty orders
David Hertik
Camper City, Inc.
12202 N. Navarro
Victoria
77904
(361) 573-6911
10% discount on parts and accessories
Excludes propane and generators
Ricky Merklinger
Caney Creek RV Park
230 C.R. 285/Mailing:P.O. Box4312, 77404
Sargent
77414
(979) 245-4735
10% discount on daily rates
 
Carol Sallec
Carpet Masters-Carpet One
210 E. Anaqua
Victoria
77901
(361) 573-9101
10% off carpet
Sale items
Charli Donoghue
CHEM DRY of Victoria
113 Yucca Drive
Victoria
77904
(361) 573-4432
3 room traffic area special for $79.95 and 4th room FREE.
 
Kathy Bing
Children's Discovery Museum
204 N. Main
Victoria
77902
(361) 485-9140
2 for the price of one admission. General admission is $3 per person.  Children two and under are free.
Excludes special events.
Cathy Lowe
City Motor-Chevrolet, Dodge, Chrysler, Jeep
202 South Wells St.
Edna
77957
(361) 782-3531
1% over invoice on select new units for members
 
William Buchanan
Claxton's Flower Basket
308 5th St.
Palacios
77465
(361) 972-3534
10% off.
Excludes consignments
Mary Sue Claxton
Colley Refrigeration
612 N. Hwy. 288B
Clute
77531
(979) 265-4711
No service call charge for senior citizens (a savings of $50.00).  10% off of preventative maintenance contract.
Excludes Calhoun, Lavaca counties. Edna, Ganago, Victoria
David Hargrove
Colony Creek Country Club
301 Colony Creek Dr
Victoria
77904
(361) 576-0020
$5 off round of golf
 
Cheryl Johnson
Cookies by Design-The Original Cookie Bouquet
8607 N. Navarro St. C
Victoria
77904
(361) 574-9500
10% discount on any cookie bouquet arrangement
Must present card at time of purchase. Only valid at this location.
Annie Vahalik
Crop Tops
5229 State Hwy 111 E.
Yoakum
77995
(361) 293-0244
20% off total fee includes moss removal, tree trimming, tree removal and stump removal
 
Antonio Pinon
Crossroads Chiropractic Clinic
3506 Sam Houston Dr
Victoria
77904
(361) 579-9325
30% off your first visit
 
Cynthia Airhart
Crossroads Professional Detail
209 S. Liberty
Victoria
77901
(361) 572-8740
Basic wash $35, Wax $85, Full detail $125. Will give $10 off to any service for card holders.
 
Matthew Gaskin
Curt's Carpeting
3034 North US Hwy 77
Hallettsville
77964
(361) 798-9000
Buy 50 yds of carpet and get 2 roll borders free/ Get 20% off 15yds of border/ Buy 5 gallons of Brunning paint and get 1 gallon of primer free
 
Curt Lannen
Custom Tinting & Truck Accessories
308 E. Circle
Victoria
77901
(361) 576-0739
5% off parts, $20 off complete tint job, $25 off spray in bedliner.
No discounts on labor.
Stanley Payne
D & D Novelties
9501B N. Navarro
Victoria
77904
(361) 576-3717
10% off purchase
 
Donna Shook
Deluxe Auto Top & Trim
605 E. Crestwood Dr.
Victoria
77901
(361) 573-5009
10% discount on headliner replacement
 
Dwight Broussard
Dierlam A/C & Heating
3902 FM 1822
Edna
77957
(361) 782-7465
10% off parts
 
Shawn Dierlam
Doggy Detailers Grooming Salon
72 Lee St.
Victoria
77905
(361) 575-5571
10% off grooming fees
 
Terri Ferrier
Drymalla Construction
608 Harbert St./P.O. Box 698
Columbus
78934
(979) 732-5731
10% off drafting & engineering with design-build contract.
Drafting & Engineering only, not applicable to materials & labor of construction work.
Jay Altieri
Efficiency Air Inc.
319 E. Main St
Edna
77957
(361) 782-3537
5% off on service parts & labor/  5% off indoor air quality equipment
Not valid with other discounts.  Some restrictions may apply.
David Muegge
Farm Industrial
514 South Laurent Street
Victoria
77901
(361) 575-0461
10% off the purchase price of any new Honda generator, lawnmower or trimmer
 
Clayton Johnson
Fleetwood Home Center
2001 First Street
Rosenburg
77471
(281) 239-3003
$2500 gift certificate for furniture on a new home purchase.  $10 gas coupon on 1st visit with coop card
Must purchase on first visit and present card
Juan Barnon
Fresco Air Conditioning & Heating
604 Navigation Blvd.
Freeport
77541
(979) 233-4697
5% off of total bill including parts and labor
 
LL McDonald
G & H Electrical Inc.
P.O. Box 538
Inez
77968
(361) 782-6500
$25 discount residential and commercial
 
Liz Groth
Ganado Feed & More
306 South Third Street
Ganado
77962
(361) 771-2401
$10 off Justin boots/ 5%off pet supplies/ $10 off a $100 purchase of lawn & garden supplies
Excludes pet food; no special orders ; regular priced in-stock items only
Wade Watkins
Garwood Sporting Clays, Inc.
1576 CR 121/P.O. Box 287
Garwood
77442
(979) 758-9475
20% off sporting clay & 5-stand rounds.
NSCA registered events.
Randy Turner
Gene's Wrecker Tire & Road Service
2507 West Loop
El Campo
77437
(979) 543-7374
10% off tow bill
Must have card to prove membership at time of payment
Kristine Cochrum
Gents Formal Wear
8806 N. Navarro Suite 400
Victoria
77904
(361) 575-8899
$15 off any in-stock tux rental.
Must be presented for 7 days in advance.
Bob McGlaun
Glenn's Bar-B-Que
2901 6th St.
Bay City
77414
(979) 245-1403
Buy 1 dinner get 1 dinner half off.
 
Carol McMain
Great American Cookie Company
7800 N. Navarro #381
Victoria
77904
(361) 573-0660
Buy 2 cookies, get a free medium soda or $2 off 16" cookie cake
Not valid with other discounts
Christina Brumley
High Five Bar & Grill
CR 659 & FM 2611/Mailing:7805 FM 2918
Brazoria
77422
(979) 964-3237
One free appetizer with the purchase of one or more dinners. Dine in only!
Excludes drinks and tax.
Yetta Hustead
Hi-Pro Audio
5209 John Stockbauer
Victoria
77904
(361) 575-6130
10% off wire and accessories /$99 on remote keyless entry system
Sale items.  Some vehicles require extra parts at additional charges.
Henry Hosek III
Infiniti Communications Technology
3202 N. Navarro
Victoria
77901
(361) 576-1153
25% discount on any service offered
 
JR Hartmen, Jr
Initially Yours
3003 N. Navarro
Victoria
77901
(361) 575-5421
10% off all merchandise
 
Kelsey Lytle
Inns of Texas Edna
1006 E Houston Hwy
Edna
77957
(361) 782-5276
$4 off our regular room rate
Must present card
Bart Naik
Interstate All Battery Center
5210 John Stockbauer
Victoria
77904
(361) 572-9699
10% discount
All SLI product excluded
Randy Trotter
J. Brew Coffee
123 S. Mechanic
El Campo
77437
(979) 543-6036
10% off final bill.
 
Jay Saucedo
J. Saucedo Photography
123 S. Mechanic
El Campo
77437
(979) 543-6036
25% off sitting fee.
 
Jay Saucedo
Jackson County Feed Co.
307 Houston St
Edna
77957
(361) 782-3216
5% off select  lawn and garden items
 
David Steffek
Jennifer's House of Style
4702 N. Laurent Suite D
Victoria
77904
(361) 485-1990
15% off a highlight and haircut
Only one discount per month per family member.  Not valid with other discounts
Jennifer Rulio
K & K Bridal Rail
100 W Moore Ave.
Moulton
77975
(361) 596-7772
10% off regular priced merchandise
Excludes items already on layaway prior to presenting card
Melissa Helweg
K-2 Steak House
1701 8th St
Bay City
77414
(979) 245-6936
10% off
Excludes alcohol and specials
Gary Kubeczica
Killebrew Inc.
2108 Houston Hwy
Victoria
77901
(361) 575-0483
10% off parts and labor
Excludes oil changes and tire and tire rotations
Pam Hill
Kitchen & Bath Showplace
101 W. Mockingbird Lane
Victoria
77904
(361) 788-2020
10% discount with coop card
 
Michael Macha
Lentz True Value Hardware Co.
1207 N. Wheeler
Victoria
77901
(361) 573-4335
10% off on all cash sales of regularly priced merchandise
Excludes lawnmowers, sale items or promotional items
Ray Shannoh
Lily Pond's Cottage.com
1842 Track Rd.
New Ulm
78950
(713) 822-5038
10% off rate.
 
Linda Behreno
M.A.R.S. of Victoria
9603 N. Navarro St.
Victoria
77904
(361) 579-6116
10% off labor for body work
 
Morgan Ruschhaupt
Mabry's Auto Service
304 N. East/PO Box 745
Edna
77957
(361) 782-6518
$29.95 for lube, oil & filter change include 5 qts of oil,filter,lube chassis, and check all fluid levels and tires
 
Craig Mabry
Matagorda County Museum
2100 Avenue F
Bay City
77414
(979) 245-7502
$1 off the admission price for each member pf your group (reg prices: $4 adult/$3 Senior citizen/$2 children
 
Barbara Smith
McNamara House Museum
502 N. Liberty St
Victoria
77901
(361) 575-8227
Half price admission
 
Denise Roussel
Miller Appliance, Inc.
1305 SW Moody
Victoria
77901
(361) 578-6608
5% discount on any professional or gallery series appliance or stainless steel appliance
Offer on cash sales only.
Jim Myers
Nave Museum (Fine Arts)
306 W. Commercial St./Mailing:502 N. Liberty
Victoria
77901
(361) 575-8227
Half price admission
 
Denise Roussel
New Sound Hearing Aid Center
2006 N. Navarro #A
Victoria
77901
(361) 578-2896
10% discount on all models of digital hearing aids. 0% financing available.  Free hearing test.
 
Henry Aoueille
Ozarka Aqua Beverage
701 A W. Jackson
El Campo
77437
(979) 543-1885
$18 to begin service; 3 bottles H2O free; 2 months cooler rent free; 1-6pk free
6month agreement.  Must have checking account and credit check
Jeff Socha
Pappy's General Store
3334 Old Goliad Rd
Victoria
77905
(361) 576-1077
10% discount on home winemaking and beer brewing products, home sausage and cheese making products
 
Perry Thomason
Penn Craft
4 Ben Eva Dr.
Bay City
77414
(979) 245-6212
10% off frame up to $50. 15% off anything over $100.
 
Judy Pennington
Perfect Partners Memorial/Wedding Video Productions
82 Haynes Rd
Victoria
77904
(361) 576-6561
10% off on memorial, wedding and video work.  This includes any photo mountages.  Call for details.
Must inform that cardholders before work job to get discount
Doug Janssen
Perfect Partners Pressure Washing
82 Haynes Rd
Victoria
77904
(361) 576-6561
10% off pressure washing business entrances or residential work
Must inform that cardholders before work job to get discount
Doug Janssen
Permanent Cosmetic Clinic
2806 N. Navarro, Suite M
Victoria
77904
(361) 576-3038
$25 off any permanent cosmetic procedure (ie. Eyebrows, eyeliner, or full lip procedure)
Not valid with other discounts
Jo Anne Garcia
Pizza Hut
1203 N. Valasco
Angleton
77515
(979) 849-4372
$2 off large pizza
 
Janie De Los Santos
Portraits Today by Wayne Willoughby
311 W. Live Oak/P.O. Box 337
Lolita
77971
(361) 874-4110
20% off portrait session fee
Does not apply with other offers or specials
Wayne Willoughby
Professional Cleaning
P.O. Box 12
Louise
77455
(979) 648-2606
10% off all cleaning services including strip and wax vinyl floors.
 
Carolyn Wagner
Professional Cleaning Services
P.O. BOX 7175
Victoria
77903
(361) 576-6446
1 room free with a minimum of 4 rooms cleaned/ 15% off other services (window, floors and waterpress cleaning)
$45 travel charge for outside of Victoria
Mick Moore
Professional Hardwood Floors
P.O. Box 12
Louise
77455
(979) 648-2606
5% savings up to 500 sq. ft. 10% savings on 500 sq. ft. up to 2000 sq. ft. 15% savings on 2000 sq. ft. and above on sand/refinish wood floors & also installation of new floors
Excludes repairs.
Carolyn Wagner
Rainbow International Restoration & Cleaning
610 E Crestwood Dr.
Victoria
77901
(361) 578-4476
20% on residential cleaning service only; 15% on commercial cleaning services only
Minimum residential-$75/ Minimum commercial-$100.
Ronnie Heldt
Regency Inn & Suites
2605 Houston Hwy
Victoria
77901
(361) 485-2100
15% off a 2 night regularly priced stay
 
Peggy Miller
Reifel's Feed & Ranch Supply
2822 FM521
Brazoria
77422
(979) 798-2898
5% off
Excludes hay and feed
Kevin Reifel
Shoppa's Farm Supply
1116 South Wells
Edna
77957
(361) 782-3301
10% off in store apparel.
Does not include toys or merchandise.
Roland Orsak
Sid's 24 Hour Wrecker Service
1826 US Hwy 59 South
Edna
77957
(361) 782-2989
10% off towing up to 30 miles
 
Sid Clifton
Silver Wings
817 W. Loop
El Campo
77437
(979) 578-9444
$1 off admission on any skate session
Not valid for private sessions or parties
Dixie Guyer
Steamatic of Victoria
5311 Country Club Dr.
Victoria
77904
(361) 579-0010
Receive half off any one piece furniture cleaning with carpet cleaning.  Free deodorizer with any air duct cleaning
Offer not valid with fire and water restoration
Keith Simnacher
Tee's Music House
212 N. Washington
Beeville
78102
(361) 362-0828
10-20%discount on merchandise
Excludes sale items, sheet music,books,DVD's and all repairs
Harold Tieman
Tee's Music House- Victoria
906 E. Red River St.
Victoria
77901
(361) 575-0204
10%-20%  discount on merchandise
Excludes sale items, sheet music,books,DVD's and all repairs
Harold Tieman
Texana Inn
925 W Main St
Edna
77957
(361) 782-3502
$2 off regular room rate
Must show card.
Bart Naik
The Caney House
County Rd. 112, FM 3156/ P.O. Box 681
Van Vleck
77482
(979) 429-1973
$100.00 off wedding facility, $10.00 off private party
 
Kay Rose
The Computer Center & Radio Shack
119 N. Mechanic
El Campo
77437
(979) 543-1949
10% off on any new or used computer
 
Clay Wilkins
The Herb Cottage
442 CR 233
Hallettsville
77964
(979) 562-2153
15% off of $20 or more (plants only)
 
Cindy Meredith
Total Auto Glass
5932 Baca Road
Fayetteville
78940
(800) 242-6408
$50-$100 off comprehensive deductible for windshield replacement with insurance / Save $25 off cash quote
 
Harvey Hayek
Tree House Solid Wood Furniture
116 E. First
El Campo
77437
(979) 543-1691
10% off any purchase over $500
Not valid with any other offer.  Excludes finishing, repairs and delivery fees.
Dixie Guyer
Twentieth Century Technology Museum
625 N. Fulton St./231 S. Fulton St.
Wharton
77488
(979) 282-8808
Free Guided Tour.
 
Art Schulze
VCS Security Systems, Inc.
3202 N. Navarro St
Victoria
77901
(361) 575-7417
25% discount on security and fire systems, home cinema & audio systems
 
JR Hartman, Jr
Victoria Communication Services
3202 N. Navarro
Victoria
77901
(361) 575-7417
10% discount on all service work/1 free accessory (cig lighter adapter, headset or leather case) with any phone purchase.
Excludes Bluetooth headsets-only wireless
Kelly Henke
Victoria's All-Sport Center
1902 Houston Hwy
Victoria
77904
(361) 575-0655
10% off on boots, shoes & clothing at regular price
No special orders; Does not apply to sale items
Darrell Hester
Vonderau Ford
1912 North Mechanic
El Campo
77437
(979) 543-2753
$100 rebate at delivery on new or used vehicle bought from Vonderau Ford
 
Robert Vonderau
White's Home & Auto Store
117 S. Mechanic
El Campo
77437
(979) 543-3911
10% off merchandise over $150/Free delivery on merchandise over $400 on motor appliance, riders, etc. within 60 mile radius of El Campo
 
James Baros
Windstar Travel
262 Stone Meadow
Victoria
77905
(361) 576-3315
Free travel consultant-specializing in cruises, Las Vegas and Mexico vacations/ $25 off first booking
 
Peggy Macha
YK Communications
1905 W. Loop
El Campo
77437
(979) 543-9499
15% off chargers, headsets, batteries, car kits, face plates, belt clips, leather cases and other accessories
 
Jackie Fowler
YK Communications-Ganado
208 S. Fourth St
Ganado
77962
(361) 771-3334
15% off chargers, headsets, batteries, car kits, face plates, belt clips, leather cases and other accessories
 
Jackie Fowler
YMCA
1300 N. Virginia
Port Lavaca
77979
(361) 551-2562
$5 off any class registration or programs
 
Roland Zepeda
YMCA of the Golden Crescent
1806 N. Nimitz
Victoria
77901
(361) 575-0511
$5 off any YMCA class or program registration in Calhoun Co. or Victoria Co.
 
Norma Dale
Zimco Marine & Carquest Autoparts
305 5th St.
Palacios
77465
(361) 972-1640
15% off all cash sales.  Senior citizens receive shop discount.
Not valid on accounts that already receive a discount
Gus Valcik